The Photos below show an unwanted hitchhiker from a recent Fraser Island beach fishing trip. Its a Coastal Taipan one on the top ten most deadly snakes in the world (apparently) it was 3 mtrs long and 2 inches thick in the middle. I was driving along the sand and stopped just before I was about to run over it ! " Big Mistake " it reared up tried to bite the wheel then dissapeared up under the wheel arch and into the engine bay. I drove around for a couple of hours as I couldn't find it then it came out of the grill around the rod holders up onto the bonnet .Even though I was behind the glass windscreen I still almost wet myself.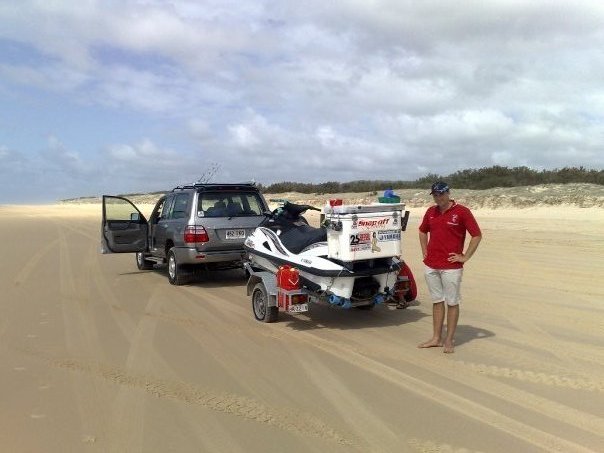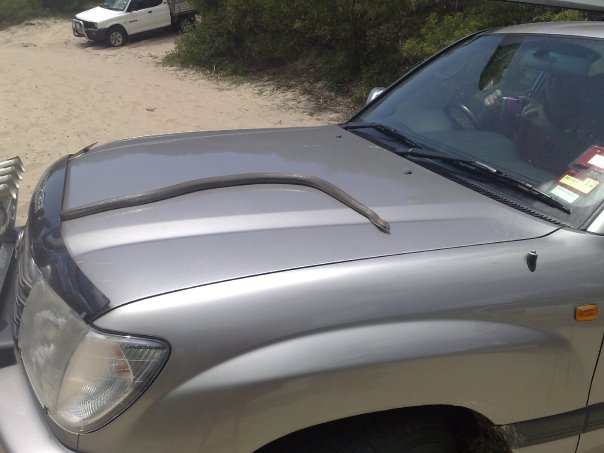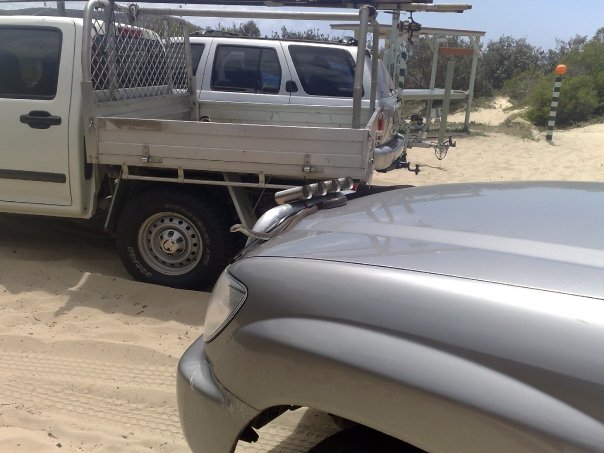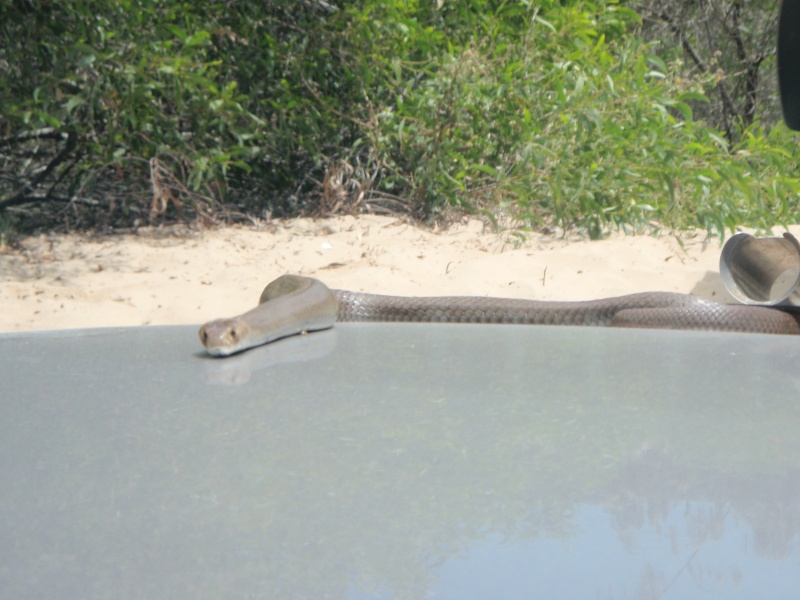 Number of posts

: 99


Location

: Mooloolaba Australia


Registration date

: 2008-10-18



so glad we dont get those here in nz







Number of posts

: 539


Best fish landed on your ski

: monster


Age

: 44


Location

: auckland


Job/hobbies

: Refrigeration engineer/catching big fish


Humor

: Fillet And Release


Registration date

: 2008-10-15



Don't think I will be taking my jet ski much further north than townsville. Sharks I can handle as they don't normally try to get you on the ski as they are more interested in eating the fish on the end of your line. We get Humpback whales here and they don't eat people. I cant comment on the Orca,s that our Kiwi fiends encounter across the ditch. Snakes I am not terribly keen on either but Crocs and Stingrays are just downright dangerous.
http://au.news.yahoo.com/a/-/australian-news/5265557/big-saltie-attacks-fishos-kakadu/
Big salty attacks fishos in Kakadu
ABC - January 16, 2009, 1:24 pm
Crocodile management rangers will visit a creek in Kakadu National Park today to try to find a saltwater crocodile that stalked a fishing group this week.
Kakadu ranger Matt Dunn says he was fishing with his girlfriend and her sister earlier this week when a 5.5 metre croc slammed its head into the boat several times.
Mr Dunn says the crocodile hadn't behaved like this before, but it is the breeding season.
He says his girlfriend's sister was particularly upset by the close encounter.
"She headed back into Darwin the day after ... it's only her second time fishing and it was quite a rude awakening for her and a very big shock and she was in hysterics.
"So I'm not sure if you'll get her back out on this river but we'll wait and see."






Number of posts

: 99


Location

: Mooloolaba Australia


Registration date

: 2008-10-18



I guess there are dangers anytime we get off the couch... maybe a few more than normal when we go fishing. Ive seen a salty and ive seen a few snakes, but hell arnt the sharks enough to deal with when we are out on the water, who wants all the rest added to the mix...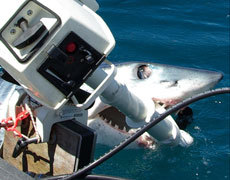 Number of posts

: 23


Location

: North West, Auckland (Westharbour)


Job/hobbies

: Manager - Fly Fishing, Sea Fishing, any Fishing!


Humor

: Love a good laugh


Registration date

: 2009-01-07





Similar topics
---
Permissions in this forum:
You
cannot
reply to topics in this forum